Make a Lasting Impression with Your Business Card
A professional business card is an essential branding tool. It should be precise and appealing, but also reflect the personality of your company. SpringHive offers world-class best and unique designs for companies across the world.
Positive Branding
Your brand image is critical in today's competitive marketplace. Your business card should reflect your company's values, culture, and personality.
Lasting Impression
A custom business card will make sure your customers see you anytime and anywhere – from a newsstand to a waiting room counter.
Market yourself effectively
You've spent time and money creating a name for your business. Leverage this by giving your customers an instant impression of your company.
You want to have a professional looking business card that will make an impression and standout from the crowd.
Imagine getting your hands on the perfect design that reflects your brand. It has everything you need in one place - from professional logos to beautiful color schemes. And since it's been designed by professionals, it will help attract new clients right away. Your business card is the first thing a potential client will see. You want them to remember you, and your company for years to come.
SpringHive offers high quality business card designs for all types of businesses, including graphic designers, photographers, real estate agents, lawyers and more. Our team will work closely with you to create a unique design that fits your personality and brand perfectly – all at an affordable price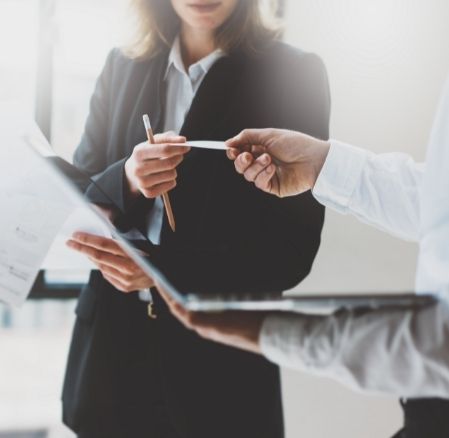 Your First Impression Counts, Make It Memorable With A Business Card
A business card is a quick and easy way to leave your first impression. What message do you want that person to take with them? Perhaps, "You're important," or maybe something like, "I'm qualified." You can create the perfect image for yourself by selecting what design suits best!
Make lasting connections that breed new opportunities for your business.​
SpringHive is the best place to get your business cards designed. We have over 10 years of experience in designing for businesses and we know what it takes to make an impression. Our designs are always unique, professional, and tailored to your needs.

We offer a free consultation so that we can get to know your needs and goals for your new business cards before starting on any designs. You will be able to see our work as well as read testimonials from happy customers who are just like you! Let us help you take your next step towards success.
Our Business Card Design Process
Our design process comes in 3 easy steps! We will develop an idea with your feedback that will result in a professional and beautiful business card design consistent with your brand.
Project Questionnaire
The first step is to have you answer some questions about your company, yourself, and your needs. We will send you one questionnaire that we need you to fill out. You will get to choose 2 or 3 questions in the questionnaire and have the opportunity to add more if there are any additional details you'd like.
Design Your Business Card
We will create a business card for you out of the information you've provided, including your company logo and name. We will then send you the design for your approval. You will be able to request changes to the design until you are satisfied with the results.
Final Design Delivery
The final step in the design process will involve picking out the business cards that you want and having us make them to your liking. You will receive a high-quality printed business card design exactly how you envisioned it in your project questionnaire.
Why Should You Get a Business Card Design With Springhive?
Having a quality and professional business card is the first step to make your business more profitable. A business card isn't the front door to your business; it's just one of the many portals that leads to it. Never settle for an ordinary business card. Springhive puts your personality forward with a professional business card design.

Here at Springhive, we design professional- looking business cards that convert more leads. Professional business cards are more than an ID. They're an opportunity to make a favorable impression, to tell your story and to position yourself as an expert. They can help you make more sales, recruit new staff and even sell your business.

We offer a variety of unique business card designs. Since you have the freedom to choose your template from our wide options available and to add your own business information, you are rest assured that your business card design will be unique and original.

First impression counts, let us help you make the best one possible.
Don't be left out in the cold
Get

A

Business

Card

That

Won't

Get

Tossed

In

The

Trash
Make a great first impression and recognize you're unique. Ditch that lame old business card and get a professionally designed one from SpringHive. Bland business cards are a thing of the past. With SpringHive, we design your own business card to reflect your personality and create an impactful, memorable first impression. Instead of boring traditional business cards, we create a fun one that shows off your style. SpringHive is fast, affordable, and easy to use. Design a professional business card that reflects your personality. Order your SpringHive now!